Sussy
2016

Vital statistics

Position
Guitar
Age
45
Status
Active

Physical attributes

Height
5'5
Weight
70 kg
Biography
Edit
Sussy (real name Furuya Masahito , born 3 February 1974) (Blood Type 0) Guitarist of Sex Machineguns, Ino Head Park and Dufu.
He started carrer in 1995 when he join to Sex Machineguns, it is possible that he recorded guitar parts in the demo from 1995. He played with the band , recorded the first live video "Into to Fire" in Citta'.
From that moment the band began to relate very successful , they played the first tour of Japan ,evry next album referring great success.
In 2000 Sex Machineguns play first SM Show in Budokan , Sussy and Sex Machineguns were at the peak of popularity, but second half of 2000 Sussy decided to leave from band , the reason was the wrong direction in which the band goes. He recorded last single and album with Sex Machineguns "S.H.R" and Barbe-Q★マイケル ,and left from the band in 2001.
After leaving there was nothing special to 2004 , when he join to Ino Head Park, team founded Takuya , They were successful , but the problem was the lack of a stable team, the band played with breakes until 2012, when they decided to pause activity. In 2013 they play a concerts.
-2008 Back to Sex Machineguns
Edit
In 2008 Sex Machineguns didn't have a guitarist, Sussy decided to help the band and play with replacements on hand Dragon Sue. From 2012,he play still in Sex Machineguns.
Today Sussy play in Sex Machineguns and Dufu with Noisy and SSSJ.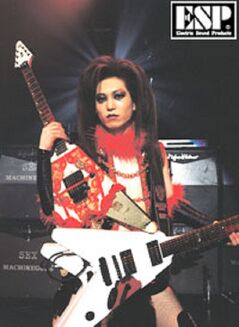 Life Event's
Edit
-1995 Join to Sex Machineguns.
-2000 Leave from Sex Machineguns.
-2004 Join to the Ino Head Park.
-2008 Back to Sex Machineguns as Support.
-Funded DUFU with Noisy and SSSJ.
-He likes fetish.
-He likes to take snuff.
Social Media
Edit
Appearances
Edit
1.Sex Machineguns 1995-2000 ,2008-Presents.
Edit
2.Ino Head Park 2004-2012 ,2013.
Edit
3.Dufu -Presents
Edit
Community content is available under
CC-BY-SA
unless otherwise noted.