Shingo☆
2016

Vital statistics

Position
Bass
Age
32
Status
Active

Physical attributes

Height
Unknown
Weight
Unknown
Biography
Edit
Shingo Tamaki (born 29 August 1983 in Ishigaki) (Blood Type A) Bassist of
ザ☆メンテナンス and Sex Machineguns.
Shingo was born in Okinawa, his family sailed from Taiwan where he lived with his Grandmother. From his youth he had exposure to the music scene, practicing surfing and other sports.
In 2001, He founded the band "B-Shop" and he played with them until 2006 when they ended activities.
-2007 he joined as a support for Sex Machineguns and recorded the single 毒マムシ and Jacky. After this he became an official member of the band and recorded the album Cameron. Quickly he integrated into the band and became an inseparable part of Sex Machineguns.
In the next years he continued a career of the Sex Machineguns and recorded album's 45 ° ↗, SMG, LOVE GAMES and new METAL MONSTER.
In 2012 when Sex Machineguns went on Hiatus, Shingo along with Anchang , Kouzou and O Yakata formed "ザ☆メンテナンス"
2016 Shingo help with his family making a film that tells the stories of escape from Taiwan and settlement in Okinawa.
Life Event's
Edit
-2001 Started in B-SHOP.
-2007 Joined to Sex Machineguns as support.
-2008 Official member of Sex Machineguns
-2013 Founded ザ☆メンテナンス
-He likes surfing.
-He is a fan of Red Hot Chili Peppers
-Supporting Verde Tokyo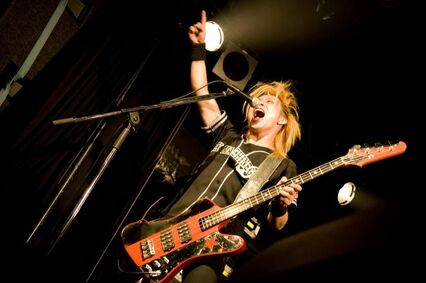 ==  ==
Community content is available under
CC-BY-SA
unless otherwise noted.