CAMERON

SEX MACHINEGUNS

Released
October 8th 2008
Recorded
Tokyo
Length
53:33
Label
TOSHIBA EMI
Producer
Unknown
Tracklist
Edit
1. アヒル (4:15)
2. 人妻キラー (4:47)
3. 青春時代 (4:20)
4. ダイヤモンド軍団 (4:39)
5. 小遣い赤信号 (5:24)
6. たまごDEATH (5:25)
7. 嫁探し (4:08)
8. 浦島太郎 (4:24)
9. 愛の相撲部屋 (5:18)
10. JACKY (5:33)
11. オオカミ中年 (5:58)
Overview
Edit
Their seventh album "CAMERON" was released in 2008 with new Bassist Shingo Drummer Ken'ichi and Guitarist Ryotatsu. The album received mixed reviews with some saying it was "Mostly filler tracks" and the other hand critics described it as "A great example of Anchang's writing ability". It contains hits like "人妻キラー" and "JACKY" The album peaked number 38 on the Japanese Charts.
Versions
Edit
October 8th, 2008 - TOSHIBA EMI - TOCT-26590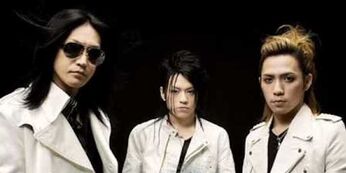 Community content is available under
CC-BY-SA
unless otherwise noted.